Nature's Gift To Health
ARDESY® is rich in natural minerals and comes from deep within the Auvergne Volcanoes in Cezallier (France). It has been well documented that Ardesy promotes cardiovascular wellness with clinical efficiency, *, making Ardesy a natural drinking companion to promote cardiovascular health.
Discover More
A Gift Of Nature
Ardesy – Natural sparkling mineral water 80 meters under the ground of the Auvergne Volcanoes, welled close to the village of Ardes in the French Auvergne region.

Ardesy natural mineral water begins its journey 15 km = 15000 m of crystalline and metamorphic rocks of the volcanic cezallier plateau, brings its high content in minerals and natural carbon dioxide.

Ardesy water, in the french couze d'Ardes valley, is located in the heart of the regional natural reserve of the Auvergne Volcanoes close to the Ardesy source, a path allows discovery of the exceptional beauty where Ardesy water gushes out.
Stable Mineral Composition
Due to the stability of Ardesy water, the rich natural minerals within the water compositions remain intact and stable for everyday consumption.
Its unique flavor allows you to enjoy the taste of the sparkling sensation as the natural goodness accompanies you through the gourmet experience.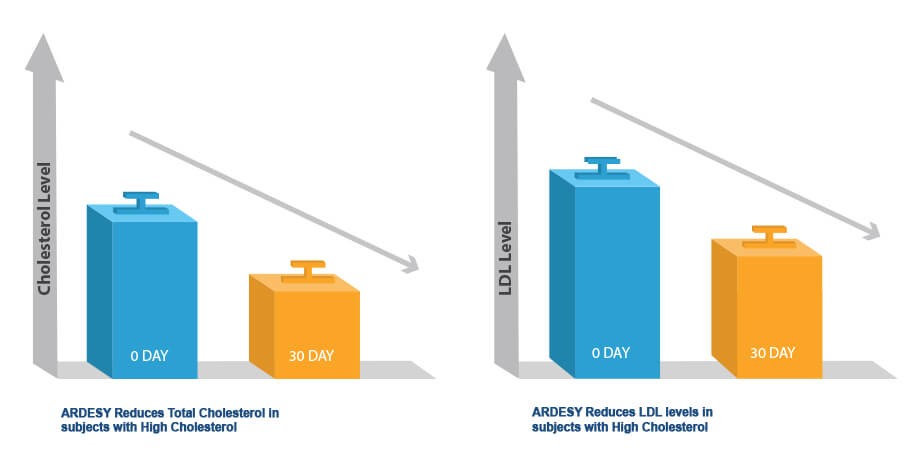 Cholesterol Going Down
Clinical trials in Singapore and Indonesia found that drinking a liter of Ardesy mineral water perday for a month , could
significantly reduce total cholesterol
levels (p=0.0026) and LDL levels (known as bad cholesterol) (p<0,0001).
Testimonial
Dr. Irma Yunita
Medical Doctor
I have tried drinking Ardesy water and the day after I drank Ardesy, I feel like my body is fitter than before and I feel fresh in body and mind throughout the whole day at work .
Dr. Adi Hardono
Medical Doctor
My cholesterol level is quite high but after I drank Ardesy Water for a month, my cholesterol level in blood was going down. When I started drinking Ardesy, I was having was also having high blood pressure which always made me worried. But now my blood pressure remained normal now. I hope that I can keep this healthy lifestyle going by drinking Ardesy regularly.
Dr. lysia gressida
Medical Doctor
My commitment as a general practitioner makes me often skipped my breakfast and, coupled with the lack of sleep, I end up having gastric pains symptoms, and my body get easily tired. However, after I drink Ardesy water regularly, I feel that my body healthier, more refresh and my digestive disorders that I've experienced before improved greatly.
Dr. Putri Cindiyastuti
Medical Doctor
When I first try to drink Ardesy, it tasted a little bit salty, but I know it's due to its high minerals. After routinely drinking Ardesy, especially when it's ice cold, it taste like normal like drinking regular sparkling mineral water. Thanks to this drink my blood lipid decreases and digestion became regular.
Erick Helia D
Medical Doctor
Drinking Ardesy revitalised and replenish my body fluid needs. Ardesy is a very refreshing drink and helps me refresh my concentration, especially those long tiring days in the clinic.
Learn more about health benefit
Drinking Ardesy® naturally sparkling water is not only refreshing with its effervescence, but also serve to hydrate the body with minerals that are essential for optimal health.
Subscribe To Our Newsletter